The Challenge:
Lichfield based Rycroft Associates LLP is one of the UK's largest independent brokers covering the trade credit insurance needs of over one billion pounds of clients' insurable turnover, offering a nationwide credit insurance service via a network of associate partners throughout the UK.
The company recognised that it was falling behind the times in terms of its IT infrastructure, so started a search to find a reliable and affordable IT partner to assist the business with upgrading to the latest digital technology, and help with remaining abreast of changes and increased efficiency.
The Opportunity:
Steve Parsons, Associates Partner at Rycroft Associates, was recommended to speak to First Class Technologies (FCT) by a trusted associate and, at the first meeting, was impressed by the knowledge and dedication of the team.
Steve says, "They just seemed to understand what we needed in terms of IT support for the business, presenting sensible solutions at the right price."
The relationship started from there and Rycroft Associates appointed FCT in March 2016.
The Solution:
First Class Technologies identified a number of IT projects that needed attention in order to increase Rycroft's IT security and operational efficiency.
Firstly, Rycroft needed a centralised point for the storage of all company data, ensuring the availability of back-up copies (should the business ever need to restore data from an earlier point in time) if an unplanned event occurred. FCT installed a Dell T20 server on-site, complete with an uninterruptible power supply (UPS). In addition, a CloudBerry back-up solution (which automatically backs-up the server once a day) was installed to ensure no loss of important data. As well as data being backed-up on Rycroft's network, the system allows back-ups to the cloud so that, even in the event of a complete disaster, the server can be restored to new hardware to allow the business to be up-and-running again in a new location within just a few hours.
The Rycroft team also needed new hardware to replace the mix of home-grade and self-built PCs that existed around the office. These were replaced with Dell and HP hardware, giving peace of mind with manufacturers' warranties and easier maintenance if required.
Each machine was built to a standard Rycroft specification, ensuring every employee had access to all necessary software, as well as giving the added advantage of allowing the team to hot-desk and work from each other's machines if required. Office 365 software was installed to ensure everything stayed secure and stable, and the systems have since been upgraded from Windows 7 to 10 to keep Rycroft using the latest versions of technology.
FCT uses a live monitoring system that allows the team to be alerted of any issues on their dashboard screen at FCT HQ. Should an alert appear, an IT support person can call one of the Rycroft team to ensure everything is still working as needed and nip any potential issues in the bud.
To stay safe from the increasing threats of cyber security, FCT supplies Rycroft with BitDefender Antivirus, which is also managed and regularly checked by FCT's monitoring system.
After taking time to understand Rycroft's business and how the team members work, FCT also implemented a secure Virtual Private Network (VPN), to allow staff to work from home when required, as the VPN connects staff into the network to allow them to work as if they were actually at their desks.
Rycroft's Lichfield office is in an old bakery which is a beautiful building but the thick walls and steel beams caused issues with the WiFi signal. As the router provided by Rycroft's Internet Service Provider (ISP) was not powerful enough to cover the whole office area, FCT installed an Ubiquiti WiFi access point to provide an enterprise-level WiFi service at minimal cost, allowing the team to enjoy access to the WiFi from anywhere in the office.
Rycroft has taken a support contract with FCT, allowing the team to call for IT help whenever required, with no limit on the number of calls made or IT tech time used. For the team at Rycroft, it provides peace-of-mind that they can call with any queries or problems, no matter how big or small, to ensure everything continues working as required.
When it comes to any malfunctioning technology, FCT is on the ball with break-fix support. If they get a call from Rycroft to say that a piece of hardware has a fault, FCT can usually be on-site to review it within 2 hours, and a replacement can usually be organised for the next day should the equipment be unrepairable.
Finally, FCT's structured cabling keeps Rycroft's unique office looking tidy at all times, blending the necessary wires and cables seamlessly in with the characterful aesthetics of the old building in a way that is easily manageable by FCT should any changes be required. For example, when Rycroft had a new phone system installed, no new cables needed to be run in the office because of the existing structured cable plant that was in place.
In Conclusion:
Steve Parsons concludes, "We've been using FCT for around 4 years now, and, as a business, we wouldn't want to be without them! At the first meeting, Managing Director Richard Hinton promised they'd deliver excellent service, and they've been true to their word. The team has never let us down – they are the perfect service company. They've brought Rycroft Associates into the 21st Century in terms of technology, getting us where we needed to be one step at a time, so we didn't feel overwhelmed with all the changes.
"It's great to have just one point of contact to deal with all our IT queries. Most of the time, FCT phone us as their monitoring system identifies a problem before we've even noticed! All the people in the office have FCT's number to hand, so if there are any problems, or if they receive a suspicious email they're not sure about, they just contact the IT team. FCT has even come to the rescue of some of the directors when they've been working at home – nothing is too much trouble. We call FCT just like we would an internal IT department – in fact, most of the time I think we forget they're not our in-house provider as we get on with them like colleagues, which is the sign of a great customer/supplier relationship."
Richard Hinton, MD of First Class Technologies comments, "FCT strives to establish close partnerships with our clients. Typically, one of our engineers becomes the first point of contact to encourage the development of a trusted relationship, thereby enabling us to have a better understanding of a site and the client staff so they, in turn, have confidence that, when an issue arises, it will be promptly sorted. Whilst Rycroft is still a reasonably new client, this process is already well-established, and we're really enjoying working in conjunction with the team."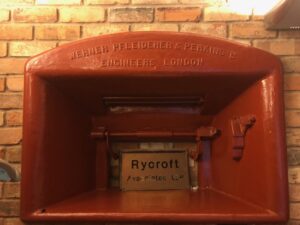 The show must go on! Lichfield Garrick in partnership with FCT »