Business Continuity Built From the Ground Up
Introducing the next generation of hybrid cloud-based business continuity solutions built for businesses of every size. Datto solutions are designed to mitigate downtime and make growth and transition easy for your business, as your data and storage needs grow.
On the inside, components are optimised to support our
robust software platform, which includes instant virtualisation and proprietary
Inverse Chain Backup™. On the outside, the devices feature hot-swappable drive bays, solid state OS drives, and are built to be field upgradeable.
First Class Technologies – Datto Premier Plus Partners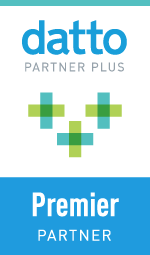 As Datto Premier Plus Partners,  First Class Technologies are specialists in supplying, installing and maintaining Datto products. We have successfully deployed Datto solutions to organisations all over the UK.
FEATURED DATTO TECHNOLOGY AND SERVICES
Inverse Chain TechnologyTM
This proprietary technology eliminates broken backup chains. Each time a backup occurs on an  appliance, data is converted directly into a virtual machine, with the most recent backup image  always being the base image. Data is always available immediately, both on and off-site.
Screenshot Backup Verification
No more guessing if your backup is working properly. Datto appliances boot backups as virtual  machines, capturing an image of the login page to give you visual proof that your data has been  successfully backed up. An industry first.
Backup InsightsTM
This groundbreaking proprietary technology on appliances allows you to identify file or  application changes between any two backup points. You can easily find that deleted folder or  determine which files a virus affected.
Instant On-site and Off-site Virtualisation
Backups from Datto appliances can be virtualised locally to the Datto device or to the secure  Datto Cloud, instantly, with the click of a button. Should a local disaster occur, a business can  continue as usual in the Datto Cloud. Even while virtualised, systems can perform a normal  backup schedule to both the Datto device and to the Datto Cloud.
Hybrid Virtualisation
This is the combination of instant off-site virtualisation and the single click connectivity of  instant local virtualisation.
End-to-End Encryption
All data is protected by AES 256 encryption both in transit and in the cloud. For Datto  appliances, Partners have the option to encrypt data locally, and pass phrases can be specified  per appliance or per protected machine to meet compliance regulations.
Time-Based Cloud Retention
Datto's unique billing model takes the guesswork out of cloud billing. Storage for appliances  is based on time-frames versus trying to estimate how many gigabytes a customer may need;  available in 1, 3 or 7 year options.
Infinite Cloud Retention
Need to keep more data for an extended time? Avoid limits like storage capacity maximums  and lapsed storage contracts with Datto's Infinite Cloud Retention Program. Maintain an  ongoing contract with us, and keep your data on the Datto Cloud indefinitely. Perfect for long  term archiving and organisations subject to regulatory requirements.
Award-Winning Support
Datto Direct – to –Tech Support is 100% in-house and available 24/7/365, so you can get help  when you need it no matter what time of day it is where you are.
Download a Datto product guide and get in touch for a demo and quote.