Award-winning Lichfield IT Managed Service Provider, First Class Technologies (FCT), helped to preserve the memory of more than 50,000 Allied WWII servicemen captured by the Japanese.
FCT, based on Britannia Enterprise Park, Lichfield installed touchscreen displays and a projector displaying the names of all the prisoners in the exhibit building at the National Memorial Arboretum, Alrewas, Staffordshire.
The work was carried out by FCT as part of its longstanding partnership, dating back to 2007, with the charity that runs the Far East Prisoners of War Memorial Building.
Managing Director, Richard Hinton, said it has been one of the most unusual, but rewarding projects the company has been involved in since taking on the technical support of the exhibit.
He said: "We spend the majority of our time installing, supporting and upgrading computer networks and audio visual solutions in schools and businesses so, for our staff, this was a unique project. We've been working with the Children and Families of the Far East Prisoners of War charity (COFEPOW) for around 14 years now. It's given us a personal insight into how these men suffered so terribly. They were cruelly beaten, starved and forced to work as slave labourers, with thousands losing their lives."
Richard continued: "It's vital this story is not lost on future generations. One of our engineers, who is only 24, had never heard about what went on in the Far East. It was a sobering experience for him to learn about what happened in Japanese prison camps during his visits to the exhibition.
"COFEPOW has done an incredible job ensuring people will fully understand what these soldiers, sailors and airmen went through simply for serving their country. It's been a privilege helping them keep the subject fresh in the minds of the public and we've been pleased to offer our services at cost."
FCT set up two new touchscreen enquiry kiosks, enabling visitors to search for prisoners and locate graves from an electronic database. The names of the POWs are continuously beamed onto a wall by an enhanced powerful projector which gives a bright and sharp image.
The project also involved installing five new display screens featuring newsreels and footage of prisoners recounting their harrowing experiences. Each screen is operated at the touch of a button and the sound quality has been improved.
COFEPOW trustee, Keith Andrews, whose father, Robert was one of the prisoners of war, said: "The installation of the new equipment was done in time for our annual VJ Day celebrations on the nearest Sunday to August 15 when the Japanese capitulated, and September 2 when they formally surrendered. That was really important to us because we have lots more visitors then, including families searching for information about relatives who were imprisoned. We're very grateful to First Class Technologies for waiving their usual rate. It's comforting to know we can call on a local company for help."
A total of 50,016 United Kingdom forces personnel were captured. Out of this number, 12,433 died (25 per cent) from starvation, diseases and mistreatment while under the control of the Japanese army between 1939 and 1945.
The FEPOW building is the only memorial of its kind in the UK and is designed to look like a typical Thai hut, complete with bamboo poles and jungle birdsong to create an authentic feel.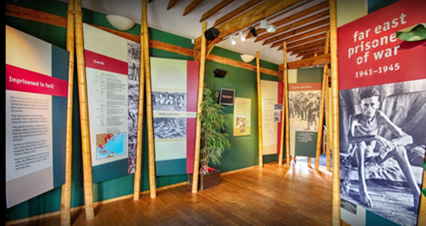 Announcing the launch of Windows 11 »