THE CHALLENGE:
Veriserv helps businesses maintain workplace safety standards, by verifying all critical elements meet electrical, fire, security and mechanical compliance standards. The company is based in Cannock but assists businesses of all sizes and sectors across the UK.
In 2007, when Veriserv had outgrown its existing IT support, the business needed to find a new Managed Services Provider and was recommended to speak to First Class Technologies (FCT).
THE OPPORTUNITY:
FCT offered everything Veriserv was looking for, being a local, trustworthy and professional IT support provider who could supply off and on-site IT coverage and support to manage, maintain and future-proof Veriserv's IT infrastructure.
David Quarmby, MD of Veriserv explains: "Having a local provider was very important to us. Whilst these days many issues can be fixed remotely, we wanted an IT partner who was local enough to just 'pop in' if required, to allow IT issues to be fixed quickly and efficiently. "
FCT ticked the boxes for all of Veriserv's requirements, and an excellent working relationship between the two companies built from there.
THE SOLUTION:
Once a week, one of FCT's Senior Engineers attends Veriserv's Head Office to liaise with the office staff and confirm all the IT is working efficiently and effectively. The team also checks whether any of the Panasonic Toughbooks used by Veriserv's remote engineers are in need of updates or repairs, and First Class manages this process when required.
FCT has also helped Veriserv with its business continuity, by improving its back up and security protocol. The days of Veriserv relying on a human to change the daily tapes on its back-up system are long gone. Now the company runs half-hourly internal back-ups, plus a secondary back-up to a hosted cloud solution for extra protection.
During the 2020 pandemic, the FCT team was instrumental in keeping Veriserv running when lockdown forced all staff to work from home. FCT acted quickly to keep everyone operational during the first lockdown, giving staff remote access to enable them to work from home safely and securely.
When the second lockdown hit, Veriserv asked FCT to provide more robust home-working solutions, which involved replacing computer hardware and providing other equipment such as dual screens and security tokens.
Apart from general day-to-day IT support, FCT has also assisted Veriserv with a number of more specific IT projects, such as aiding in compliance with annual audit and review requirements for ISO 27001 Information and Data Security accreditation.
FCT was also heavily involved in Veriserv's office relocation when the business moved to larger premises in June 2020 and all of the IT equipment was moved from the previous Burntwood site to the new office in Cannock.

In Spring 2021, FCT managed Veriserv's migration to Microsoft 365 to improve its business resilience and also help with home/hybrid working, due to the collaboration options that Microsoft 365 offers with its suite of software, such as Teams.
With the increase in hybrid meetings, FCT has installed a couple of large touchscreen TVs into Veriserv's training and board rooms, affording the business the flexibility it needs to keep communication channels open during these uncertain pandemic years.
IN CONCLUSION:
David Quarmby says: "We're delighted that FCT was recommended to us back in 2007. At the time, our business was growing beyond the capability of the freelance IT support provider we were using, so we knew we needed to find a business that could grow with us and support our increasing IT needs as Veriserv continued to thrive.
"As our business has grown, so has our reliance on IT. Our field engineers previously worked with paper systems, but now they have mobile technology because it's much more efficient.
This increasing dependence on IT to keep our team working, both in the office and out in the field, makes the relationship with our IT support provider even more important. The bonus of working with FCT is that they not only understand our business, but the team has also got to know our other suppliers. So, if any issues occur, the FCT team can jump on a call with our IT software suppliers to work together and get any issues fixed without us having to get involved, which is hugely beneficial. And because of the remote monitoring systems they run, sometimes FCT notices problems before we do!
"The team has helped future-proof our business by keeping us up-to-date with the latest technology, which has been so vital for communication during periods of lockdown. The team at FCT are such a friendly bunch and always have our best interests at heart. In fact, it's easy to forget that they're actually a separate business, not just part of Veriserv's staff! We're so pleased we've got them on board."
Managing Director of First Class Technologies, Richard Hinton, says: "It is amazing when we recall that our partnership with Veriserv is now in its fifteenth year. The senior management trust First Class, enabling them to concentrate their efforts on developing the Veriserv business whilst having the confidence that our team is there to ensure their computing infrastructure is fit for purpose and running smoothly. Advanced monitoring tools are used to manage both servers and computers (PCs and laptops) with other key security features to maintain the integrity and resilience of the
network. Our relationship with Veriserv is typical of the connection developed with other business clients we support. "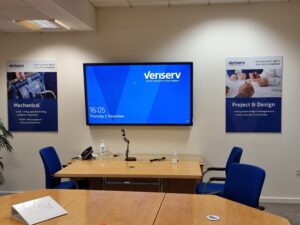 Microsoft 365 Price Increase
What you need to know, and how to delay the impact. »